35,000 Hours and Counting, Part 1: Why Working from Home is Different Now and Yet the Same
Details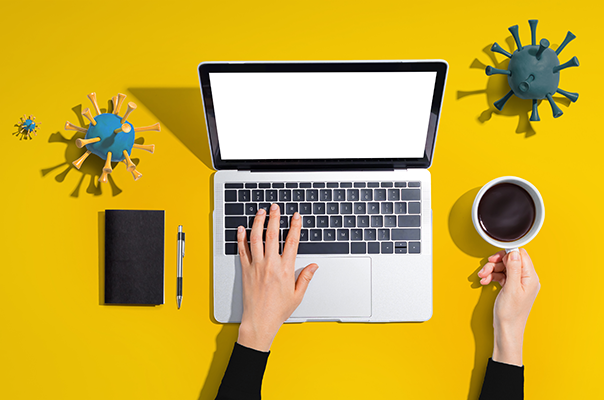 (Looking for the survey link? It's at the bottom...)
Working from home (WFH) is second nature for me; I've accumulated more than 35,000 hours of working from home, which includes the years I had my own business and the years I worked on contract for giant tech companies like Microsoft and Amazon.
I left full-time employment for Microsoft in 2003 after 10 years, to start and run my own business out of our house. For 2 years, I planned my departure and my office setup. I bought ergonomic furniture, file cabinets, bookshelves, and a business laptop. I even calculated cost of all the things that Microsoft had provided that I would now have to pay for myself, from my daily allotment of Diet Coke to extra toilet paper (sound familiar?).
Once I returned to Corporate America (mostly as a contractor), I kept my home office intact. I was fortunate to have a couple of jobs where I worked from home exclusively. So working from home is pretty comfortable for me, but I am definitely hearing from friends how difficult their work-from-home scenarios are now. I'll get to that in a minute.
Working from Home... Before
How did tech workers generally regard working from home before the pandemic made it mandatory?
It was a respite from the noise and interruptions in the office.
It gave us a chance to concentrate, especially if writing code, documentation, or reports.
Some people may have thought of it as a chance to skip meetings, but most of the people I knew chose to work from home on days with no meetings. Some companies were even set up to exclude meetings from Fridays or Mondays, for example, and that provided the opportunity to work from home.
Then Came the Pandemic
So how is working from home now during the pandemic the same as it was before? Well it includes all of the items above, plus:
Skipping the commute. Right now that's a really good idea, of course. We're saving fuel, the commute time, and for transit riders like me, avoiding close exposure to each other.
Having more hours available to devote to the work on the day.
Wearing casual clothing or even working in our pajamas.
Now with the pandemic keeping us at home, it's different. We're not home alone.
You may be sharing space with your spouse or roommate who is also working from home.
If you have kids, they're now also at home. You are rightly trying to home-school them, but it also affects your efforts to be productive.
Meetings on webcams mean everyone can see where your "home office" is -- or the artwork behind your couch or the state of your kitchen, if you don't actually have a home office space.
Your favorite company-sponsored chat function such as Skype, Slack, Symphony, etc., is no longer an option, it's a lifeline for communications.
Webcams are pretty much NOT optional. Depending on your employer, you may feel compelled to stay on camera at least part of the day.
This is also particularly hard on managers, who may feel that they need to look in on you, and ask more questions than usual.
Work no longer stays at work; now it's at home with you all the time. If you weren't in touch with the concept of work/life balance before, it may make more sense to you now.
Should WFH Become a Permanent Option?
My first thought is Yes.
We're proving it can be done.
It's a measure of trust of us as workers.
We really don't yet know how soon we'll be able to safely work sitting next to each other on an ongoing basis.
Most tech companies have in the last few years have moved to group seating and/or open and unassigned seating, which makes appropriate distancing difficult. If you're lucky enough to work where you have a cubicle, that may be helpful. That said, if your company isn't planning to make working from home a permanent option, it might be time to suggest that working from home should become part of the company culture.
Yes, Please Tell Toolie
What is your company doing? Are they hoping to reopen the office before the end of 2020? I'd love to hear from you, either by emailing me at This email address is being protected from spambots. You need JavaScript enabled to view it. or by sharing your comments privately through the encrypted Signal app at 425-830-0740.
Take My Research Project Survey
One more thing! If you are a front-line tech worker or tech manager of front-line workers, I need your input. Please visit www.TellToolie.com and take one of the 8-minute surveys that'll help me with primary research on working conditions for tech workers.